Back to News
New ElliptiGO Arc Models Bring Greater Affordability and Performance to Elliptical Cycling
March 1, 2017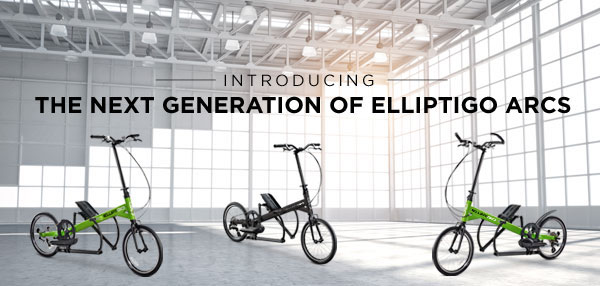 ElliptiGO Inc., creator of the world's first elliptical bicycle, today announced two new models of its popular ElliptiGO Arc 8 bike. The Arc 3 and Arc 24 join the Arc 8, giving the product line an even more affordable model and a higher performance version.
The ElliptiGO Arc 3, with a MSRP of $999, is the most affordable elliptical bike on the market. The Arc 3 delivers an invigorating workout that's ideal for short- to medium-length rides on flat or gently rolling terrain. With its aluminum frame and three gears in a smooth-shifting internal hub, the Arc 3 is also the easiest elliptical bike to maintain.
The ElliptiGO Arc 24 sports the widest gear range of any elliptical bike, a stunning 574%, which enables riders to dial in the perfect resistance level and cadence for any ride and terrain. The Arc 24 (MSRP $1499) comes fully loaded with Ergon grip bar ends, toe cages and a fender to improve riding comfort and performance.
"These two new Arc models build on the phenomenal success of the original 8-speed Arc and address strong needs in the market," said Bryan Pate, ElliptiGO CEO and co-founder. "With its low price point, the Arc 3 makes the fun and comfort of elliptical cycling affordable to many more people. And the high performance of the Arc 24 will appeal to people who enjoy the feel of traditional cycling, but want a superior workout and more comfort."
The original ElliptiGO Arc 8 debuted in December 2015. With its combination of quality and performance at a great price (MSRP $1299), the Arc 8 quickly became the top-selling stand-up bike in the world.
All three ElliptiGO Arc bikes have a compact stride that's similar to standing up on a traditional bicycle, but the upright riding position eliminates the neck, back and seat pain associated with conventional cycling. The standing position also capitalizes on the rider's body weight, as well as rolling and wind resistance to burn 33% more calories than riding a traditional road bike, giving a better workout in less time.
The Arc 3, Arc 8 and Arc 24 are available now in the United States. ElliptiGO also offers competitive financing options, including 0% interest for up to six months.
To learn more about ElliptiGO, visit http://www.elliptigo.com/, or follow them on Twitter @elliptigo and Facebook at https://www.facebook.com/elliptigo.
About ElliptiGO
ElliptiGO is the San Diego-based company that created the world's first elliptical bicycle to deliver a fun, comfortable and effective workout experience that inspires people, improves their lives and revolutionizes fitness. Combining the best of running, cycling and the elliptical trainer, ElliptiGO bikes provide a strong cardiovascular workout that eliminates impact on joints and allows people to get out of the gym and enjoy the outdoors. Elliptical cycling is an effective way to build fitness without aggravating injuries, and it is great for everyone from the health-conscious to the elite athlete. The full line of ElliptiGO bikes is distributed through specialty running, cycling and fitness retailers nationwide and through http://www.elliptigo.com/
---