Back to News
Snurfer® Introduces New Product Line for Winter 2017-18
March 8, 2017
Manchester Center, VT; Snurfer, the original snow surfer, continues to build momentum as more people realize the thrill of riding the backyard hill on a Snurfer board is contagious. For the 2017-18 season, the line has been tightened to make it easy to stock. Dealers can also take advantage of a pre-book program to maximize margins.
The Snurfer line offers a board for any rider, whether they're riding a small hill with just a bit of snow to bigger hills with piles of powder. All Snurfer boards are made-in-the-USA using only North American hard rock maple laminates for years of big smile fun. The new lineup includes: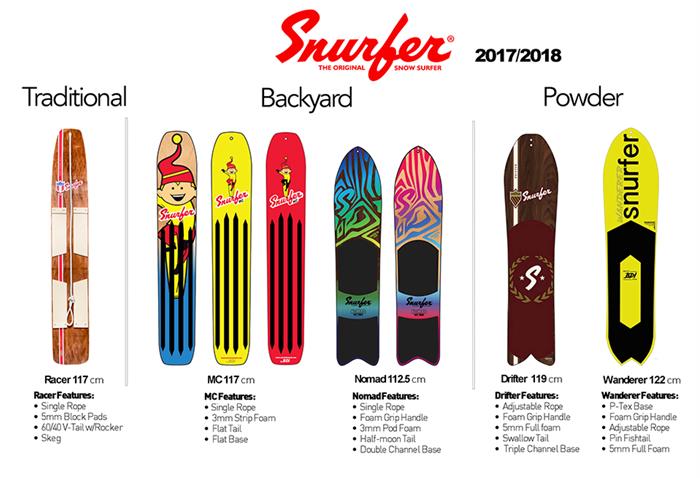 The MC 117cm – The MC is the Modern Classic. We took the original classic and brought it up-to-date with a softer flex and wider width, but maintained the magic $99.95 price point. This board is ideal for the small neighborhood hills for riders with shoe sizes 9 or smaller. MSRP $100
The Nomad 112.5cm– The Nomad returns with a wider deck, foam grip handle, dual channel base and large traction pods. It's a versatile ride for riders of any size. MSRP $130
The Drifter 119cm – The Drifter returns with a refreshed but still classic look. It has a triple channel base, foam grip and single oversized traction pad. The Drifter can ride just about any hill and loves a little bit of powder. MSRP $150
The Wanderer 122cm – The Wanderer is the powder machine. The pin-fishtail shape and wide nose let the Wanderer float like a dream. The adjustable rope, foam cushion handle and oversized traction pads give the rider the platform they need for total powder fun. MSRP $170
The Racer 117cm – The Racer is a replica of a '60's era Snurfer that got many riders on the path to becoming the first generation of snowboarders. For today's riders, the Racer has a center skeg for better straight line tracking on packed snow surfaces. MSRP $120
Dealers placing orders prior to April 7th can take advantage of volume discounts and free freight programs that won't be available in the fall. Ordering Snurfer boards and Vew-Do boards can be done online at www.balancedesigns.com, including new dealer requests. Snurfer and Vew-Do Balance Boards are part of Balance Designs, Inc. in Manchester, Vermont.
---