Back to News
SUPRA and Disney Collaborate on Beauty and the Beast Footwear Collection
March 10, 2017
SUPRA, a lifestyle footwear and apparel brand born from skate, is excited to unveil the new SUPRA collection inspired by the upcoming live-action adaptation Disney film, Beauty and the Beast.
The Disney Beauty and the Beast collection by SUPRA draws inspiration from the iconic red rose through velvet and pantone red suede to introduce a modern and refined shoe inspired by Belle. A youthful hue of burgundy fits well for a kid's shoe, while also appealing to mothers excited to match and coordinate with their children.
The Disney Beauty and the Beast Sky top by SUPRA is unveiled in an all black sole, and black crushed velvet with beautiful contrast embroidery of regal gold lace details.The Rococo era is highlighted through gold embroidery and ornate fabrics to pay homage to the film's history.
"We are thrilled to be a part of such an iconic movie like Disney's Beauty and the Beast," says Cape Capener, Brand President atSUPRA."Our Disney and SUPRA footwear collaboration is inspired by the magical world of princess Belle and SUPRA's street and skate lifestyle that creatively come together to produce amazing footwear with a great marketing story.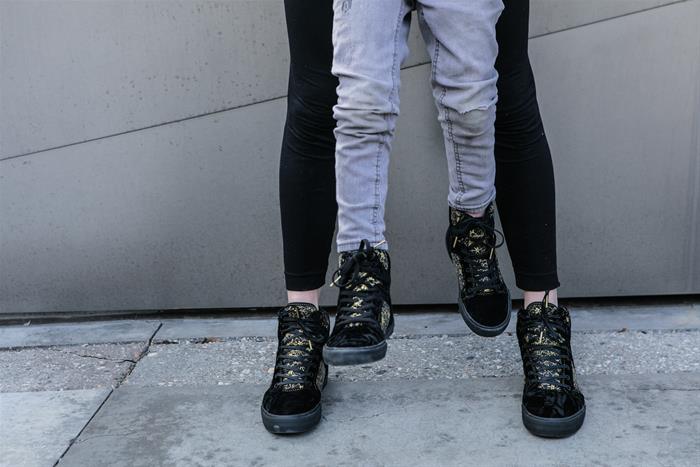 Three unique themes, and two iconic SUPRA footwear styles will kick off the launch.The kid's and women's Sky top and Cubana styles are available on www.suprafootwear.comstarting March 9. On March 15, it will launch with Finish Line and Macy's,in stores and online. The kid's Sky top and Cubana retail for $75 and $60 respectively,while the women's Sky top will retail for $110 and the Cubana will retail for $75. The men's Cuba,priced at $70,will release in April.
About SUPRA
SUPRA is a footwear innovator and global lifestyle brand founded in Southern California in 2006. Inspired by passion and born from skate, SUPRA fuses fashion, music, skateboarding, art, and street to bring classic silhouettes in an innovative way. Today SUPRA operates flagship stores in New York City, Mexico City, Paris, and Tokyo and distributes to over 60 countries through a network of select skate shops and high-end boutiques. SUPRA is owned by KSGB, also known as K-Swiss Inc., a division of E.Land Group, a privately held Korean company.
About Beauty and the Beast
The story and characters audiences know and love come to spectacular life in Disney's live-action adaptation "Beauty and the Beast," a stunning, cinematic event celebrating one of the most beloved tales ever told. "Beauty and the Beast" is the fantastic journey of Belle, a bright, beautiful and independent young woman who is taken prisoner by a Beast in his castle. Despite her fears, she be friends the castle's enchanted staff and learns to look beyond the Beast's hideous exterior and realize the kind heart of the true Prince within.
---