Back to News
Spy Charges Into 2017 with Clear Vision and New Energy
March 15, 2017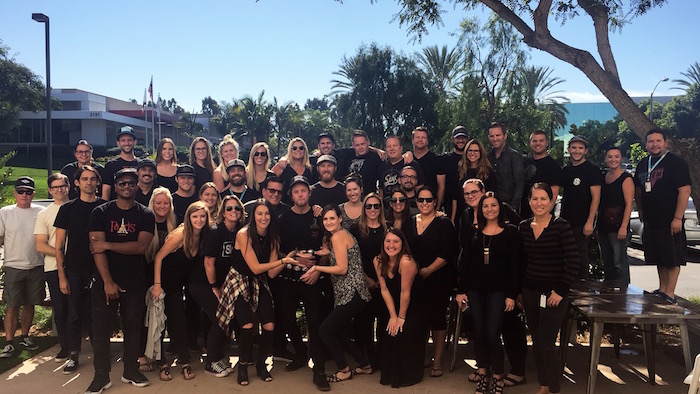 After a quiet year in terms of broadcasting company-specific news, SPY is ready to set the record straight in terms of what is now, next and awesome, from one of the industry's most progressive and unconventional eyewear brands.
SPY celebrated several milestones in 2016, and for the first time in more than a decade achieved:
Highest operating income (net income before interest)
First profitable net income year
Lowest operating expenses as a percent of sales
Highest gross profit percentage
Lowest level of debt
Looking Back
In order to realize the scope of the progress SPY has made over the last few years, it's important to look back in the brand's past. SPY ended 2015 with an announcement that it was deregistering its shares of common stock as a way to help alleviate the significant costs that come with being a publicly traded company, something that caused many to assume that a comeback from the brand was far off the radar. And while SPY did start 2016 facing some strong challenges, including fierce competition and a daunting amount of debt, the cliché regarding assumptions holds true when it comes to what many were incorrectly thinking about the brand.
Down, but never out, SPY went into 2016 primed for a revitalization and ready to make moves. A fiscal and physical restructuring led to the elimination of longstanding debt, and resulted in an operating profit (net income before interest) of $1.26M, a gross margin increase of 3.8% YOY, a noteworthy inventory level reduction of $1.97M YOY and a net income at its highest since 2004, $804,000. Aggressive enforcement of SPY's MAP policy led to a considerable decrease in retail accounts that violated the company's pricing policies, and new programs were implemented to help prevent problem accounts from arising in the future. To increase efficiencies, the company moved into a new 47,000 square foot office space, adjoining a state of the art warehouse that includes upgraded machinery and improved hardware. As noted previously, these strategic moves helped lead the brand to its first profitable year in a decade.
On the human capital side, new positions were created and new associates joined SPY's internal ranks in sales, marketing, purchasing, IT and analytics. SPY has also invested significantly in sales rep and internal training resources, helping to ensure that some of the best minds in the industry keep getting better.
Looking Forward
"It's been a busy few years at SPY. We've been focusing on creating awesome product and cultivating some incredible retail partnerships, but haven't been talking about ourselves. The short story is that SPY is back and the best it's been in a very long time. I'm excited to share with our supporters what's coming up soon, and for those who have been sleeping on the brand for a while, I want to let them know it's definitely time to take another look," commented Seth Hamot, SPY CEO.
SPY kicked off 2017 with a serious bang. At the request of both key retail partners and media outlets, SPY made a triumphant return to Outdoor Retailer Winter Market trade show this past January. Despite the chilly weather in Salt Lake City, SPY received a very warm reception during the show. SPY's booth was packed with retail partners and industry colleagues, all eager to take in a glimpse of the latest sun, snow and optical products coming from the brand. SPY's showing at Outdoor Retailer was greeted with substantial media interest as well, resulting in multiple editorial features and the brand receiving the coveted Editor's Choice award from Popular Mechanics for its new Hunt sunglass.
?SPY is on the cusp of launching a new website designed to better service consumers, while offline, retailers will soon be getting their first glimpse into display concepts and POP strategies proven to increase sell through.
More is on the horizon as SPY continues to ramp up for the rest of 2017 and new additions will continue to be made both in the office and around the world. Those plugged into snowboarding are already aware that backcountry charger, Eric Jackson, joined SPY's snow team this year and siblings Mason and Coco Ho have just come on board from the surf world.
Stay up to date on SPY happenings at spyoptic.com, instagram.com/spyoptic, twitter.com/spyoptic and facebook.com/spyoptic.
About SPY:
SPY is an unconventional, fun-loving family of athletes and artists committed to creating exceptional optical products. Established in 1994, we are an independent Southern California-based company. We design products—sunglasses, goggles, and prescription frames—that take style cues from the outdoor sports community we're engrained in, as well as the lifestyle that surrounds it. Our exclusive Happy Lens™ technology is the only lens on the market which harnesses the beneficial aspects of long-wave blue light, while offering protection from short-wave blue light known to damage the eyes. The Happy Lens name comes from independent studies which have shown that long-wave blue light can positively affect a person's mood and alertness. To learn more about SPY, go to www.spyoptic.com.
Safe Harbor Statement:
This press release contains forward-looking statements. These statements relate to future events or future financial performance and are subject to risks and uncertainties. In some cases, you can identify forward-looking statements by terminology such as "may," "will," "should," "expect," "plan," "anticipate," "believe," "feel," "estimate," "predict," "hope," the negative of such terms, expressions of optimism or other comparable terminology. These statements are only predictions. Actual events or results may differ materially. Factors that could cause actual results to differ from those contained in our forward-looking statements include, but are not limited to lack of continuity and effectiveness of our management team, our ability to generate sufficient incremental sales of our core SPY® brand and new products to recoup our significant investments in sales and marketing, our ability to lower our expenses or otherwise reduce our breakeven point on an operating basis, our ability to maintain or increase the availability of our existing credit facilities and otherwise finance our strategic objectives, and the other risks identified from time to time. Although we believe that the expectations reflected in our forward-looking statements are reasonable, we cannot guarantee future results and undertake no obligation to update any of these forward-looking statements.
---