Back to News
Oakley named Official Sunglasses of American Flat Track in 2017
March 20, 2017
DAYTONA BEACH, FL - American Flat Track's bright new era has dawned and has called for the next level of protection. The premier sport is proud to announce a new partnership naming Oakley as the Official Sunglasses of American Flat Track in 2017.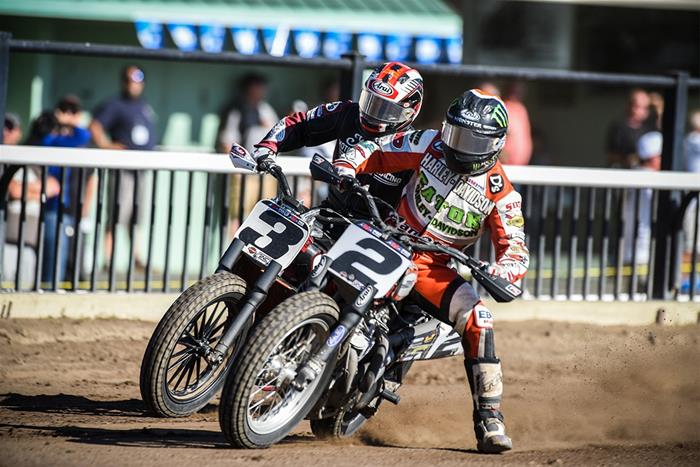 Officials and staff of the series will utilize the high-definition protective gear of the Oakley product line during the 2017 season by wearing the latest in optic technology. Present in virtually every extreme sporting discipline, the iconic Oakley logo will now be featured at every round on the expanded 18-race American Flat Track schedule through marketing and promotional efforts.
"Oakley is a technical company and long-time partner to professional sports, and we feel this is a good fit in that respect," said Michael Lock, CEO of American Flat Track. "We're excited because Oakley is a very contemporary brand with mass-market appeal, and their decision to partner with us is a vote of confidence in the direction our sport is going."
Oakley is dedicated to creating a culture of athletes and consumers who are dedicated to the quality design and innovation of the extensive apparel line. The California-based eyewear creators are excited to join the field of American Flat Track, as the new relationship adds to its impressive resumé of world-class athletics.
To learn more about Oakley, please visit their website at http://www.oakley.com/.
American Flat Track kicked off the 2017 season during Daytona's Bike Week festivities on Thursday, March 16 with the all-new Harley-Davidson DAYTONA TT presented by Politis & Matovina, built inside the tri-oval at Daytona International Speedway. The DAYTONA TT marked the dawning of a new era for America's most historic form of motorcycle racing, and the "World Center of Racing" served as the first battleground for the great American war between Harley-Davidson and Indian Motorcycle in 2017.

How to Watch
NBCSN and FansChoice.tv are the official homes for coverage of American Flat Track events. All 18 rounds, from the season-opening DAYTONA TT to the American Flat Track Finals in Southern California, will air in one-hour, tape-delayed telecasts on Thursday nights throughout the summer and fall on NBCSN, while FansChoice.tv provides live streaming coverage of American Flat Track events. FansChoice.tv also provides coverage of IMSA's development and single-make series, and NASCAR's touring and weekly series. Catch all the action at http://www.nbcsports.com/ and http://www.FansChoice.tv.
About Oakley
Established in 1975 and headquartered in Southern California, Oakley is one of the leading product design and sport performance brands in the world. The holder of more than 600 patents, Oakley is a culture of creators, inventors, idealists and scientists obsessed with using design and innovation to create products and experiences that inspire greatness. This philosophy has made Oakley one of the most iconic and inimitable brands on the market, with products that world-class athletes around the globe depend on to compete at the highest level possible. Oakley is known for its High Definition Optics®, which feature unparalleled optical clarity and precision along with impact resistance and UV protection, incorporated into all of the brand's sun, prescription eyewear and premium goggles. Oakley extended its position as the world's leading sports eyewear brand into apparel and accessories. Oakley has men's and women's product lines that appeal to Sports Performance, Active and Lifestyle consumers. Oakley is a subsidiary of Luxottica Group. Additional information is available at http://www.oakley.com/.
Source: American Flat Track
---